Miami Beach Neighborhoods Score High in Walkability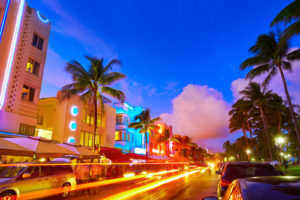 When you're evaluating the best neighborhoods to call home, you may hear the term 'walkability'. As the name suggests, walkability is a measure of how pedestrian friendly an area is, determined by factors such as footpath quality, the presence of sidewalks, traffic conditions, safety, and more. If you're considering South Florida, there's some great news being reported about a certain barrier island neighborhood.
A new report released by a major real estate firm has ranked Miami Beach's Flamingo Park neighborhood as the most walkable not only in South Florida, but in the entire state. In this case, walkability was determined by the walking distance of homes and their nearness to amenities like restaurants, retail, and more.
Flamingo Park is part of the Flamingo/Lummus neighborhood, an urban area that has come to represent South Beach. It's been photographed numerous times and is close to Miami Beach's most popular thoroughfares including the shopping and dining of Lincoln Road, Ocean Drive, and plenty more.
Flamingo Park may have come in at number one, but it wasn't the only Miami Beach neighborhood to make the list. The City Center neighborhood of South Beach also scored high in walkability. City Center is roughly bounded by Dade Boulevard and 23rd Street to the north, Lincoln Road to the south, and Alton Road to the west.
This update is presented by Miami Beach Realtor Tim Allen of Blackstone International Realty, specializing in Yacht Club at Portofino.  If you are interested in Miami Beach condos such as the Continuum condos for sale, call Continuum expert Tim at 305-588-2451 for information on sales and rentals.